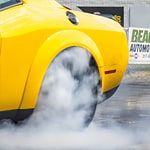 When you think of the most popular muscle car for sale today, your mind automatically goes to the new Dodge Challenger. The Challenger has long turned heads whenever it was taken out for a spin. The newest model does not disappoint with its exciting exterior features.
When you look at the new Challenger, you immediately get the impression that it has plenty of muscle to spare. It simply looks like a muscle car with its sturdy build and sleek yet stout design. It also has the all-important Dodge badging that sets it apart from its competition. Dodge has long been a name associated with performance and power. The badge that comes standard with the new Challenger lets you know that you are getting a muscle car that is well worth your investment.
Even the wheels are designed to impress. Stay with the standard 18-inch wheels or upgrade to 20-inch brass monkey machined aluminum wheels.